I've started every day since February or March doing the same thing. Not long after I wake up, I grab my phone or laptop and solve Wordle, the puzzle where you get six chances to guess a five-letter English word. Then I do the variations where you guess four words (that's called Quordle) and eight words (that's called Octordle). Finally, I check my email to see how I stacked up against the friends and family who share my obsession.
Unlike some time sinks, Wordle and the other puzzles are a great way to stay connected with people, because they're the same for everyone. Every day you can ask your fellow Wordle fans, "Are you ready to discuss it? If you haven't done it, I'm not going to say a thing, because I could spoil it just by telling you one word was especially easy or hard." And by seeing who sends out their scores first, we know who got up earlier and who maybe stayed up too late the night before.
Since debuting last year, Wordle has become a huge hit. Its creator, Josh Wardle, was on TIME's list of the 100 most influential people of 2022. Its famous fans include Vice President Kamala Harris, Jimmy Fallon, and Questlove. And it's no longer limited to English—this site says it offers Wordles in 64 languages, including natural languages as well as made-up ones from Star Trek and Lord of the Rings. (I consider myself a nerd, but anyone who can solve a Wordle in Klingon or Elvish is on a whole other level.)
If you've played Wordle, you know how important it is to make your first guess strategically. I like to start with a word that contains lots of vowels, like AUDIO or OUNCE. ADIEU is a good one too.
From there, it's a little like doing a Sudoku, where there's a chain of logic. It helps to think about which consonants can go next to each other. I like to look for C and H, for example, or S and L. Then the consonants that are almost never paired with others—like Q, V, X, and Z—really jump out.
It's easy to get fooled by words that start with a vowel. I have to remind myself, "That vowel could be at the start or the end of the word." When I have two vowels, I like to try them in the second and fourth positions, like in CAGED.
Sometimes the answers will be pretty obscure words you never use in real life. I remember one that was SMITE, a word I only know because I read the Bible. I got DUCHY once because I've read a lot of English literature. Then there's tricky answers you just have to watch out for, like words where there's no A, E, I, O, or U. That one threw me until I realized it had to have a Y—the answer was TRYST.
One time, I had the last four letters of a word: A-S-T-Y. I just needed the first letter, but I was down to my final guess. Thinking of obscure words, I tried PASTY. But I'd forgotten one of the cardinal rules of Wordle: Letters can be used more than once. The answer was TASTY. I lost, thanks to that lousy double T. Lesson learned.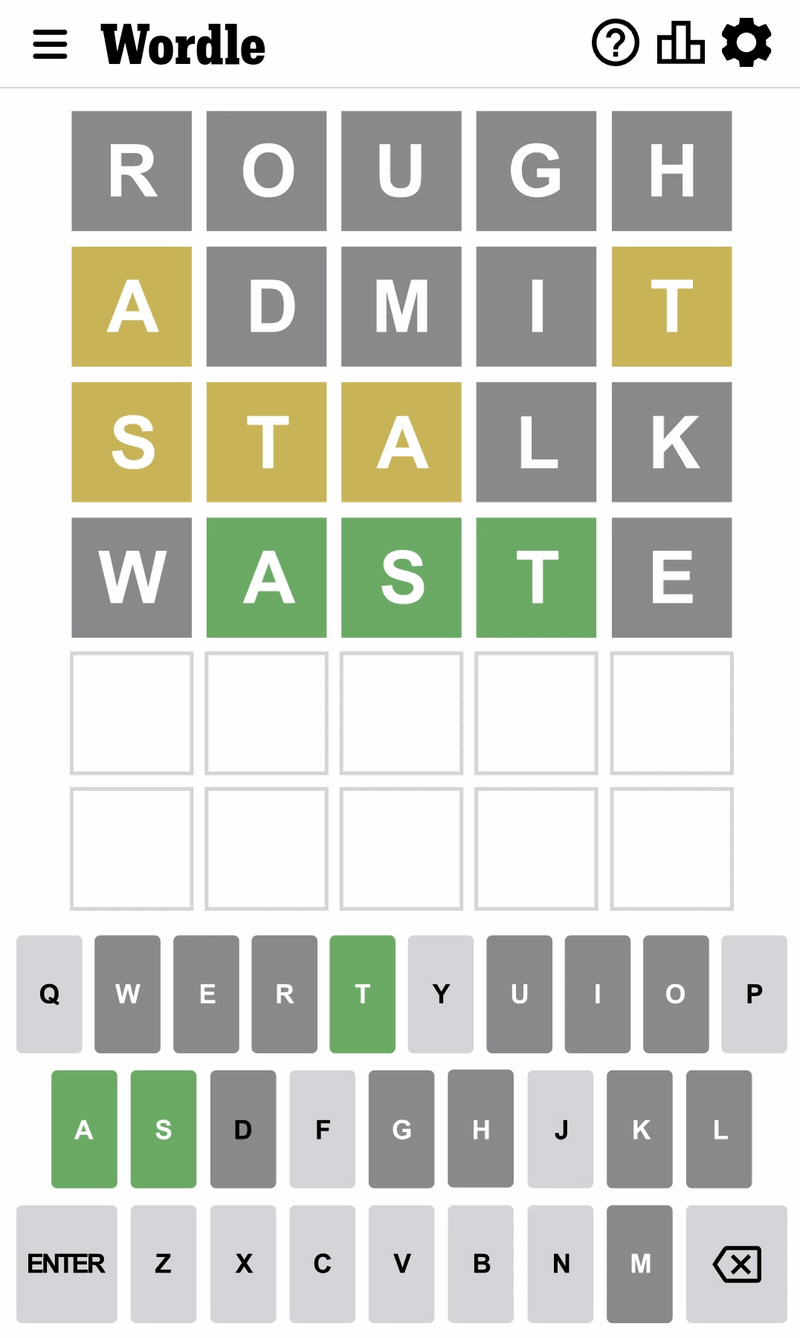 The worst thing is when you have four of the five letters—IGHT for instance—and the answer could be LIGHT, TIGHT, FIGHT, SIGHT, RIGHT, and so on. It's just a matter of luck whether you get the correct word before you run out of guesses. It's especially frustrating when you're doing Quordle or Octordle, because all you're doing is just eliminating one letter with each guess. You're not adding any new information for the other words.
I usually solve the Wordle within four guesses, sometimes five. On Octordle, I once got a 10 while I was using the practice mode, but I've never done that well in the daily competition. The nice thing about the daily competition is that it lets you play only once every 24 hours—in the practice mode, you can play for as long as you want, which makes it super-easy to waste time. I'm the kind of person who will play an addictive game over and over if I give myself the chance.
As much as I love Wordle, Quordle, and Octordle, the version I've spent the most time thinking about is Nerdle. Instead of a word, you're trying to solve an equation, and instead of letters, you're guessing digits (1 through 9) and operators (+, -, x, and /). You get six chances to put them in the right order by thinking through all the possible cases. As a math-oriented person, I'm probably better at Nerdle than the word-related versions, though I don't have as many friends and family members who like to do it.
Do you play Wordle, Nerdle, or any of the other variations? If so, feel free to share your favorite starting words and strategies in the comments section below.