Imagine there's an infectious disease spreading through your community. It leaves some people crippled; others die from it. Then someone comes along and says: "Here's something that will protect you from this disease for the rest of your life. You and your family can have it, for free." You would be very relieved, right?
This scenario may seem hypothetical (though perhaps less so given how much the Ebola virus has been in the news). But it is very real for millions of people in the world's poorest countries. Vaccines that were once out of reach for them are being delivered in greater numbers every year. That means more parents are feeling the relief of knowing their families are protected.
I've been looking at some of the data on vaccines and thought I would share what I'm seeing. At a time when so many news headlines are grim, it is inspiring stuff.
I'll start with polio. Cases are down more than 99 percent since 1988. Earlier this year, we celebrated a fantastic achievement: India was declared polio-free. And in Nigeria, the number of polio cases is at an all-time low, just 6 so far this year versus more than 50 by this time last year. It's one of only three countries that have never been polio free (the others are Pakistan and Afghanistan).
Wherever we make progress on polio, it's a testament to the amazing work of many people: political leaders who prioritize stopping the disease, donors who help fund the effort, and—most importantly—the health workers who doggedly go from house to house to deliver vaccines. Thanks to all this work (and with a little luck), 2015 could be the first time Nigeria goes a year without a case of wild poliovirus, and the first time all of Africa is polio-free. If we maintain this commitment, I'm quite optimistic that by 2018 we will get rid of this crippling disease, everywhere, forever.
There's also fantastic progress in delivering basic immunizations for diseases like measles and pneumonia. The impact is phenomenal: By next year, the public-health group known as Gavi, the Vaccine Alliance will have helped prevent 3.9 million deaths. And expanding vaccine coverage over the next five years can save as many as 6 million lives and unlock more than $100 billion in economic benefit.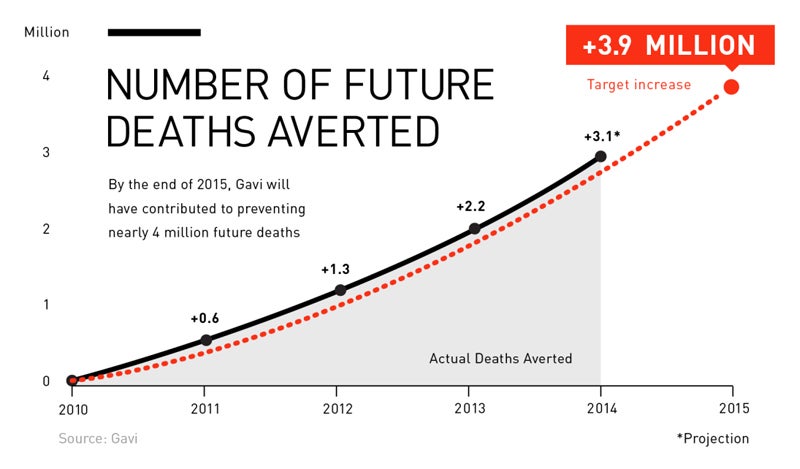 Along those lines, we hit a big milestone in September. With the addition of South Sudan, pentavalent vaccine—which protects against five debilitating diseases—has now been introduced in all 73 countries that get financial support from Gavi. Pentavalent replaced a vaccine that protected against only three diseases, which means kids are protected from more diseases without getting any extra shots. This would never have happened without Gavi: By negotiating with manufacturers and bringing in new suppliers, it drove down the cost of pentavalent vaccine from $30 per dose in rich countries to just $1.19 for poor countries.
Another big step has been the rollout of a vaccine for rotavirus, which causes severe diarrhea. Rotavirus is one of the reasons Melinda and I first got involved in global health; in the late 1990s, we were shocked by a newspaper article that said it killed 800,000 children a year—nearly all of them in poor countries—more than almost any other disease. After more research, we decided rotavirus should be a focus of our giving. We're gratified to see that 65 countries are now rolling out rotavirus vaccines, and more are signing up. Manufacturers in India are working on a new vaccine and talking about exporting it to other countries, which would help save even more children.
We're also getting closer to solving some big delivery problems, like the fact that many vaccines spoil if they get too warm. Researchers are field-testing a specially designed container that keeps vaccines cold for a month or more, using just a single batch of ice and no electricity. These trials are helping thousands of African children get immunized. I'm very hopeful that containers like this one will eventually help health workers reach far more people.
A Ripple Effect
Vaccines save lives, which is reason enough to make sure they get out there. But that's not their only benefit. Healthy children spend more time in school, and they learn better while they're there. When health improves, poor countries can spend more on schools, roads, and other investments that drive growth, which makes them less dependent on aid.
Vaccines deliver all this for, in some cases, just pennies per shot. That's why I say that if you want to save and improve lives around the world, vaccines are a fantastic investment.
How You Can Help
One way you can help is to ask your political leaders to support Gavi next year, when donor governments need to renew their commitments. In the United States you can do that through Shot@Life, whose website makes it easy to send a message to your representatives.
You can also help by donating to Shot@Life. For $20, you can help protect a child from pneumonia, diarrhea, polio, and measles. And Shot@Life has teamed up with Walgreens for a "Get a shot. Give a shot" program: Get a vaccine at Walgreens and they will provide one for a child in a poor country.
This is flu season in the United States, so you may already be planning to get immunized. Why not help out someone else while you're at it?