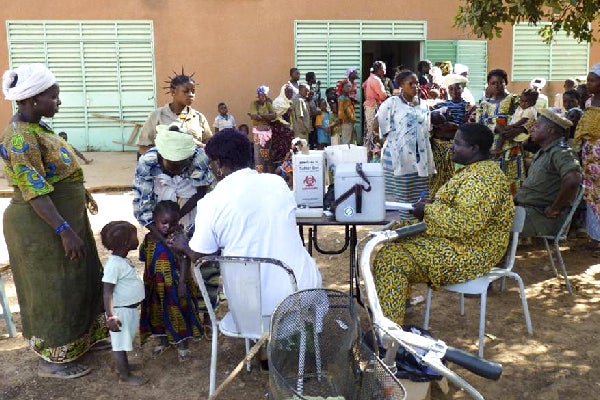 Since Melinda and I first got involved in philanthropy, we've learned a lot about how to make the foundation's investments more strategic and impactful.
We focus on problems that affect the most people with the most urgent needs, and on filling gaps that others can't. We look for opportunities to use science and technology to create breakthroughs. And we work collaboratively with others to help create scalable, sustainable solutions.
Even after you've done all the analysis, though, you can never say with absolute certainty how things are going to go. But as we approach the second anniversary of the launch of a vaccine that is finally taming meningitis across Sub-Saharan Africa, I've been thinking that it's a great example of when all of the pieces fall into place.
For more than 100 years, devastating waves of meningitis swept every few years through the 26 countries that have come to be known as the meningitis belt. Each time, the epidemics left death, disability, and financial disaster behind. Meningitis is caused by the inflamation of the protective membranes covering the brain and spinal cord.
It would strike the young most often and could kill within hours. Without antibiotics, 50 percent of those infected would die. Even with antibiotics, one in 10 people wouldn't survive two days. Among remaining survivors, one in every four was left with a permanent impairment—ranging from mental retardation, seizures, paralysis to hearing loss or an infection requiring the amputation of a limb.
After the largest meningitis epidemic wave ever recorded swept across Africa in 1996 and 1997—infecting a quarter of a million people and killing 25,000—African health ministers were desperate for an alternative to the existing polysaccharide vaccine, which provided only short-term relief after outbreaks occurred and could not reduce the risk of future epidemics.
In 2001, our foundation funded a 10-year partnership between the World Health Organization and Seattle-based PATH to develop an affordable, new vaccine that experts hoped would last longer and do a better job of interrupting transmission of the disease. Over the next decade, a remarkable collaboration grew to include many private sector and public sector partners.
In December 2010, the new MenAfriVac vaccine was introduced in three countries: Burkina Faso, Mali, and Niger. Mothers queued up early with their children, fearful that health workers would run out of the vaccine. They need not have worried. In four weeks, a remarkable 20 million people were vaccinated.
The results are as good as we hoped for. Innovative science and technology led to development of a vaccine at less than one-tenth the cost of a typical new vaccine. Strategic partnerships were also key to delivering an affordable, sustainable vaccine and getting it quickly to people most in need.
In Burkina Faso, a country which reported 40,000 meningitis cases in 2006 and 2007, 12 million people were vaccinated. Since 2010, there have been no new cases of Meningitis A reported among vaccinated populations.
Over the next three months, another 50 million people in seven countries will receive the MenAfriVac vaccine, bringing to nearly 100 million the number of people who have received it in just two years.
There is still a lot of work left to do. Hundreds of millions more people in Sub-Saharan Africa still need to be vaccinated. But for those spared the suffering of future meningitis epidemics—and for those of us working to eliminate disease and reduce poverty—the MenAfriVac vaccine is a reminder of why aid matters and the impact we can achieve working together.