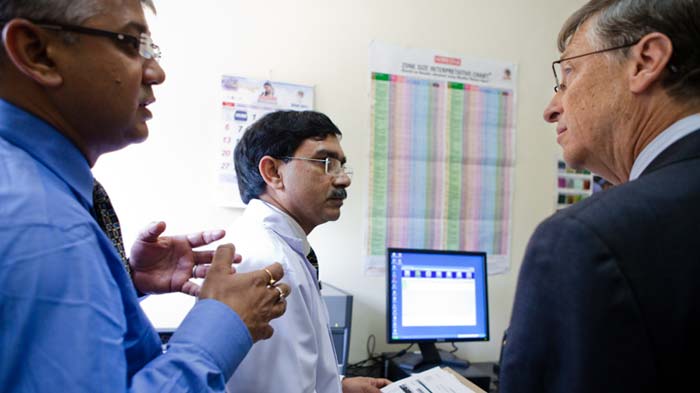 Many people think tuberculosis is a disease of the past, but this ancient epidemic remains a huge global problem. Each year there are 9 million new TB cases and 1.7 million deaths.
Yet there is a tremendous opportunity to turn this situation around. Most new TB cases are in major emerging economies like India, China and South Africa, which have a remarkable history of using innovation to address tough health challenges. They are adopting new TB strategies, and are poised to develop the next wave of innovations. This could change the way the world fights the epidemic.
The major problem is outdated tools. TB is preventable and treatable, but the most common TB test is more than 125 years old and misses half the cases. By the time most TB patients are correctly diagnosed and treated, they may have unknowingly infected many others – creating an endless cycle.
At the same time, today's TB drugs are more than 40 years old and take six months to work. The combination of poor tests and outdated treatments is driving the spread of drug resistance, undercutting global efforts to stop the epidemic. 
I witnessed this firsthand in 2009, when I visited the King George V TB hospital in Durban, South Africa. I met a woman with HIV who had been diagnosed with a highly drug-resistant type of TB. She told us about the despair she felt when she learned she had such a dangerous form of the disease.
Fortunately, there is a promising pipeline of new TB diagnostics, drugs and vaccines under development. And we are starting to see results. Just today, I saw how India is using these innovations. I marked World TB Day by visiting the state-of-the-art L.R.S. Institute of Tuberculosis and Respiratory Diseases in New Delhi with Dr. Ashok Kumar, head of India's TB program. L.R.S. uses a new molecular test, GeneXpert, which can accurately determine whether a patient has TB in about two hours. 
Molecular diagnostics could revolutionize TB care, and things will continue to improve as the price comes down and new tests are developed. This is where India could have global impact. India is a leader in developing low-cost health technologies, and the country could produce high-quality, inexpensive molecular TB diagnostics. This would increase access at home and across the globe.  
Meanwhile, South Africa is stepping up its own efforts. The country will likely begin widespread use of GeneXpert soon. This could profoundly impact health in a country where thousands of lives are lost each year to TB/HIV co-infection.
India and South Africa's leadership shows the extraordinary potential for high-burden countries to pioneer TB innovations. Their success could be a model for other countries—and save millions of lives in the process.