Bill Foege is one of my heroes. He's a giant in the field of global health, having devised the strategy that led to the eradication of smallpox (among many other accomplishments). Melinda and I are very lucky that he has been an adviser to us since the early days of our health work.
Bill is not only a great thinker and doer, he is also a great writer. He recently sent Melinda and me a fascinating note about his experience working to save children's lives with vaccines and medicine in the 1980s and '90s. The whole thing is too long to post here, but I want to share this excerpt with you.
It's the story of how a coalition came together to fight a debilitating disease called river blindness (or onchocerciasis), which is caused by a parasitic worm and was one of the leading causes of blindness in poor countries. The coalition set out to deliver a drug called Mectizan, which was made by the pharmaceutical company Merck, to everyone who needed it. In Bill's telling, the story is filled with twists and turns, and success was hardly preordained.
Bill's note captures the power of partnerships to improve health for the poorest people in the world. It is also a good account of all the logistical details required to pull off an ambitious goal. And it is a vivid reminder of why Melinda and I love what we do. I hope you find this story as instructive and inspiring as I do.
It starts in 1997, after the Mectizan program has been in place for several years…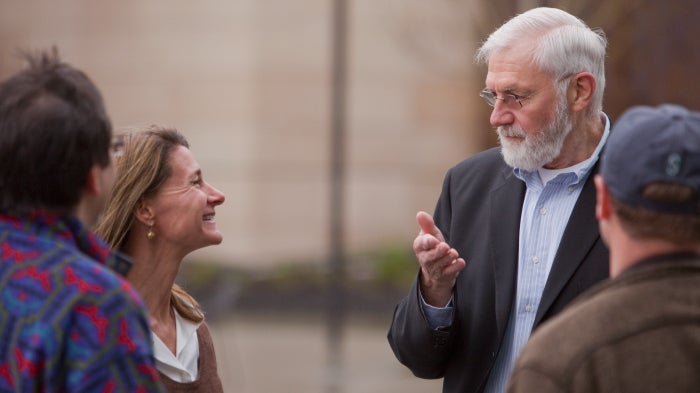 Bill Foege writes:
In November 1997, I visited a village in Mali and sat with a gathering of village residents on benches that had been pulled together for the meeting. One bench was for blind people. And there was one young man, only 39 years of age, who had been blind for 21 years! Blind for over half of his life! The people in that village were very sophisticated about onchocerciasis. They knew that their children would never have to put up with this cause of blindness, and they were grateful. The visit helped those of us who spend time in meetings, thinking about policy, or writing papers. It helped us to be grounded, to see the impact of the Mectizan program on people. But it was also a chance for the villagers to become connected, to see Merck employees and to know that medicine doesn't just appear in a village by magic. They saw the faces of people who spend their days worrying about schedules and customs, about dosage and packaging, about storage and records. We were reminded that we live in an interdependent world where it takes the whole world to raise a healthy child!
What led up to that meeting in Mali? And where does one start? History is always a book that we begin in the middle; however, we must begin someplace. It was in 1893 that onchocerciasis was first described. It was in 1926 that the life cycle was finally understood. And it was in 1974 that the Onchocerciasis Control Program was established by World Health Organization (WHO). That is a story in itself.
But the story took a leap forward in 1978, when Merck researcher William Campbell went to see Roy Vagelos, head of the Merck Research Labs, with the idea that ivermectin, being used to prevent heartworm in dogs, might have an impact on onchocerciasis in humans. It would take millions of dollars to determine if that was true… and the potential market was small. Roy Vagelos decided to approve the proposal.
It is hard to reconstruct the ethos of this company, where the founders' son, George Merck, declared, "We try never to forget that medicine is for the people. It is not for profits, and if we have remembered that, they have never failed to appear." Add to that Roy Vagelos and you have an understanding of what followed.
In February 1981, the first human tests were conducted at the University of Dakar. By 1983, the results were so encouraging that Phase II studies began and by 1986 Phase III studies on 1,200 patients in Ghana and Liberia had determined optimal dosing. In 1987 papers were filed in France for regulatory approval.
Roy Vagelos tried to find a way to distribute the drug. He went to WHO and found himself overwhelmed by the bureaucracy, then to USAID. USAID was not interested. On Oct. 21, 1987, at press conferences in Washington and Paris, Merck said it would supply Mectizan, for the treatment of river blindness, to everyone who needed it, for as long as necessary, at no charge.
That is as important in the history of global health as the breaching of the Berlin Wall was to democracy. John Maynard Keynes once said, "The day is not far off when the economic problems will take a back seat to our real problems." He was talking about human relations, behavior, health, and religion. Maybe Oct. 21, 1987 was that day. The moment when a corporation had the audacity to make social need more important than profits. To make a commitment that went beyond what could actually be seen. To treat anyone free, as long as required.
Merck came to the Task Force for Child Survival [a group Foege was working with—ed.] and made the same offer they had made to WHO and USAID. If they gave the drug free, would we figure out a way to distribute it?
The Mectizan Expert Committee was formed in 1988 to provide a mechanism to make Mectizan available for community use to any applicant who could show they would get the drug to the right people, in the right amounts, that the drug would not be diverted to the marketplace, and that all applications would be approved by the Ministry of Health of their country so that we could have total transparency with the government. I chaired that committee for 12 years and the Task Force hired a few people to run the program.
I believe in a cause and effect world rather than a world of magic. And yet that doesn't keep me from being filled with awe at the inspirational and even miraculous ingredients of this program.
The birth of the drug involved a soil sample taken from a golf course in Japan, the scientific facilities and managerial abilities of Merck in the United States, the obsession and zeal of a researcher named Mohammad Aziz (a product of the Indian subcontinent), field trials involving people and sites in Africa, and finally, regulatory approval by France. This is a global story.
We saw a magical coalition for Mectizan. It started quite small, including a few people on the Mectizan Expert Committee, the group interested at Merck, and the Onchocerciasis Control Program in West Africa. But it grew. As church-sponsored medical mission groups found they could get Mectizan, but only if they applied through the Ministry of Health to the committee, they worked with governments, and a widening coalition developed. And soon even the World Bank was involved in developing a fund for Mectizan distribution.
So the gift, in turn, was amplified by a coalition of global organizations, ministries of health, foundations, mission groups, community organizations, and volunteers, all held together by a shared goal rather than a true organizational structure.
Then there is the miracle of Mectizan delivery. We originally hoped to reach 6 million people in six years. We did it in four. When President Carter got involved, the distribution increased rapidly. He would talk to Heads of State in Africa and they would find an interest in the disease. If they were interested, one could depend on their Ministers of Health to become interested. Soon the program was reaching 10 million, then 20 million a year. Each person was at the end of a delivery system that included:
Applications requiring mail, telephone, fax, and computers,
A secretariat and committee,
Orders placed and sorted in New Jersey,
Tablets bottled, boxed, and shipped from France,
Airlines and Customs,
Storage and delivery,
A pipeline that branches into thousands of spigots,
Clinics, mobile teams, village workers, drivers, enumerators, and scribes,
Dirt roads, flooded rivers, war and conflict, and every ample barrier that Africa has to offer in reaching its poor.
Millions of separate stories, with millions of people playing supporting roles… and yet despite the odds, it actually works! We can never become too jaded to simply be amazed at what a coalition can do.
Blindness has decreased, transmission rates are being reduced, and we can even dream of a time when onchocerciasis is but a memory, a footnote in medical texts, a curiosity in the oral history of a village.
There is a metal sculpture commissioned by John Moores, one of the outstanding warriors in the battle against onchocerciasis. The sculpture shows the familiar figure of a small boy, investing in the future of his African village by guiding a blind man with a stick. The original of this sculpture was dedicated in the Merck headquarters's lobby. It doesn't highlight the most clever product of Merck, the most profitable product, or the most scientifically advanced example of the company. Instead, it is a monument to human and corporate decency.
There are also copies of this statue at the Carter Center, the World Bank, and WHO headquarters, serving as a symbol of hope in the midst of world problems… a statement that individuals can make a difference… and a reminder that we can mobilize the riches of the world to improve the health of the poorest of the poor.