A few years back, I learned about a group of philanthropists in Los Angeles who started an American-Idol-style competition called Social Innovation Fast Pitch (SIFP) in which early-stage nonprofits compete for funding. Their program extended the "venture philanthropy" model used by Social Venture Partners, where partners contribute capital in concert with expert volunteering, management advice and personal connections in order to increase the capacity and sustainability of local organizations creating social impact.
The results of LA's Fast Pitch were encouraging. All participants reported significant growth, whether or not they received funding, unlike traditional grant funding and angel investment, where participants who lose gain little. The healthy win-win competition connects innovators to hundreds of community volunteers and civic leaders. Combined with new skills acquired through mentoring and workshops, SIFP helps innovators access resources outside the competition as well.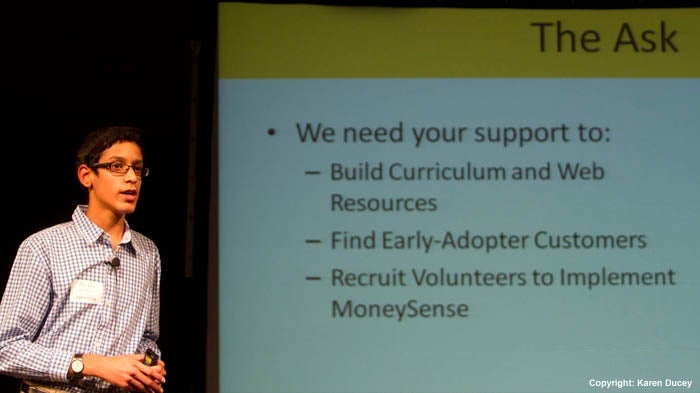 The Social Innovation Fast Pitch competition sponsored by Social Venture Partners was held at the Fisher Pavilion, Seattle Center on October 3, 2011.
Today, Social Venture Partner chapters hold variations of SIFP across ten North American cities under varying monikers in Los Angeles, Phoenix, Pittsburgh, Charlotte, Minneapolis, Dallas, Cleveland, San Diego, Calgary, and last but not least, Seattle, the city where SVP started nearly 15 years ago. SIFP Seattle, one of the largest fast pitch events in the country, is run by former Microsoft executive Will Poole. This year Will anticipates they will have an audience of up to 1,000.  In addition to 14 five-minute fast pitches, they'll feature a keynote by Nathan Myhrvold, and a guest appearance from world-renowned photographer Roger Ressmeyer. Seattle's SIFP competition is especially interesting to me, as they put young innovators on stage (via Ashoka's Youth Venture program), inspiring nonprofits, and also an increasing number of for-profit social impact companies.  Each competitor has unique approaches and strengths; they learn and draw from one another's knowledge and passion as they compete for over $200,000 in grants and investments. I see parallels in the problems some of these innovators are solving with much larger problems I am trying to solve globally.  Here are four examples:
Microryza, a finalist that will be featured on stage at SIFP Seattle on October 18, 2012, has helped support a research group addressing a problem that is surprisingly prevalent. Greater than 400 million children worldwide are infected with intestinal roundworms. These worms stunt their growth, fog their brains, and weaken their immune systems, making them more susceptible to HIV-AIDS, TB, and other infectious diseases.  Wormfree World Institute has the ability to test 1,000 promising compounds, but their funding need of only $15,000 is much smaller than the average National Institute of Health (NIH) grant of $400,000, and is not big enough to get on the radar screen of any major foundation.
To answer this and similar needs, Microryza created a crowdfunding website for scientific research projects. This solution helps close the gap for potentially-promising but unfunded projects, including some 41,000 projects needing $161 billion. They have already raised nearly half of the funds required for the Wormfree World project.
Here in the US, clinical trials underlie the development of better health treatment options.  Yet 80% of trials are delayed more than six months, often because of an inability to match patients to trials.  To improve this situation, another SIFP finalist Corengi has created a website that makes it easier for patients to find trials and vice-versa.  Their alpha site is currently used by over 2,500 Type II diabetes patients.  
As government in the U.S. becomes more polarized, debate among politicians has migrated to simplistic views about what government should do or not, with no middle ground for compromise.  In contrast, SIFP finalist City Club finds that voters are open to nuanced debate: 41% listen to both sides, 34% listen to people they disagree with, and 46% are open to changing sides based on what they hear. Their new Living Voters Guide is a website that surfaces the pros and cons of each side, and provides business intelligence and analytics about the nuance of voter's viewpoints to politicians, with the hope of driving a richer political debate open to middle-ground solutions.
In the US, 43% of people earning $30,000 or less take out two payday loans per year. With effective fees of up to 390% APR, these loans are burdensome. Finalist Express Advantage addresses this through a combination of education about financial responsibility and access to banking services, like checking accounts and loans. They fill a void in the marketplace much like microfinance in developing nations. And they have realized similarly successful outcomes.  Seventy-percent of loans have been made to low income members and the default rate is less than 1%, a marked reduction from an industry average of over 3%.
Those are just four of the passionate innovators presenting. Altogether, I'm happy to see the development of a marketplace that encourages innovators to make bold career decisions by pursuing solutions that complement Melinda's and my philanthropic efforts.  And I'm pleased to see the birth of an investor base and growth of venture philanthropist models which together help the best of these organizations succeed and improve the world around them. I'm looking forward to seeing who wins Seattle's second annual Fast Pitch on Thursday, October 18th.