There's an old saying among global health experts: "The last mile is the toughest." Sometimes they mean it literally: Reaching people in the most remote areas is the hardest part of providing health care. Sometimes they mean it more figuratively: When you're trying to eradicate a disease, the last few cases are the toughest ones to get rid of. Sometimes it's a bit of both.
We've been talking a lot about the last mile here in Abu Dhabi, where I'm attending the Reaching the Last Mile Forum hosted by Crown Prince Sheikh Mohamed bin Zayed. Researchers and health-care workers from around the world are here to talk about how we can rid humanity of many different diseases, including one that's a big focus for the Gates Foundation: polio.
I gave a speech about the state of the fight against polio and other diseases, and why I think we can succeed. Here's what I said:
Remarks as prepared
Abu Dhabi, UAE
November 19, 2019
Sheikh Mohamed's GH Leadership/Progress on NTDs
Your Highness Sheikh Mohamed bin Zayed, distinguished guests, it is an honor to be here today.
I would like to express my condolences on the passing of Sheikh Sultan bin Zayed. I was saddened to learn of this news and wish to share my sympathy with the Crown Prince and his family during this time.
I'd also like to thank Sheikh Mohamed for hosting today's forum, and for his leadership in global health. The UAE's commitment to ending diseases of poverty goes back decades. Sheikh Zayed, the UAE's founding father, was among the first international leaders to join in this effort.
Sheikh Mohamed and I began working together on childhood immunization and polio eradication in 2011. Since then, I have seen his dedication—evident not only in his generous financial support, but also in his ability to bring together partners in the global health community. Today is one example of that.
Sheikh Mohamed is also using the UAE's expertise and relationships in the region to accelerate disease elimination. For example, under his leadership, the UAE-Pakistan Assistance Program has carried out its own polio vaccination campaigns in Pakistan to reach kids who haven't previously been immunized.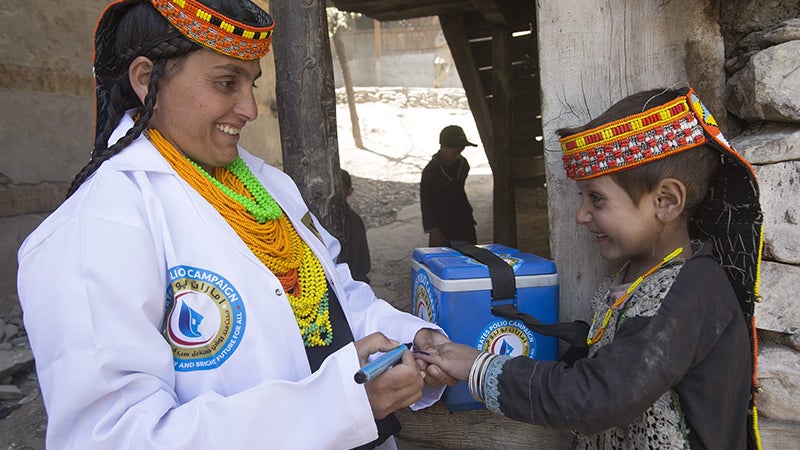 Two years ago, Sheikh Mohamed established the Global Institute for Disease Elimination, with support from our foundation. You heard earlier today from GLIDE's CEO, Simon Bland, about the unique role that GLIDE will play in global health.
Sheikh Mohamed and I also partnered to create the Reaching the Last Mile Fund, which is focused on eliminating river blindness and lymphatic filariasis in the Sahel.
I'm delighted that several new donors have joined the Fund. The fight against these and other NTDs is a personal priority of mine.
Seven years ago, the world united around the London Declaration on NTDs. Since then, 31 countries have eliminated at least one NTD. The London Declaration expires next year, presenting the world with an opportunity to renew its commitment to achieving the SDG goal of eliminating NTDs by 2030.
The progress on NTDs is a powerful example of what's possible when we take responsibility to care for each other. It's exciting to see this happening in other areas of global health.
At the Global Fund Replenishment Conference last month in Lyon, $14 billion was raised to continue the fight against AIDS, tuberculosis, and malaria. Today, we are reaffirming our support for the Global Polio Eradication Initiative.
And next June, the global community will meet in the UK to reaffirm its commitment to ensuring equal access to vaccines for children in the world's poorest countries.
While each of these partnerships is focused on solving a specific problem, together they signal a new era in global health where we are learning from one another how to send the diseases of poverty into retreat. It is a remarkable moment in time, and I commend each of you for your commitment and for your hard work.
Polio Progress and Challenges
When it comes to polio eradication, I'm often asked: why aren't we done yet? This is understandable. Most people focus on how many cases of polio are left in the world, and that number has hovered just above zero for a few years now.
But even a single child paralyzed by polio is one too many. And we know that if we stopped eradication efforts now, there could be a resurgence of up to 200,000 cases annually by 2029.
There is another way to look at where we are today, and that's to analyze how far we've come.
But still, there's that question: why aren't we done yet? The answer is that polio persists in some of the most complex and challenging places on earth. In war zones inaccessible to vaccinators. Among migrant and nomadic populations on the move. In remote areas. In neighborhoods where some parents don't want their children immunized. And in communities where the health system is so weak that it can't provide basic health services like polio vaccines as part of routine immunization.
And, as there are fewer and fewer cases of polio, detecting the virus becomes more difficult. Most people infected with it show no signs of paralysis, which means the virus can circulate silently for long periods of time before it is detected or causes paralysis in a child.
GPEI Innovation and Adaptation
So, the GPEI has had to cast a wide net to reach every child who may be at risk of getting polio, while simultaneously tailoring strategies to track and stop every last trace of the disease.
To accomplish this, the GPEI established Emergency Operations Centers in Nigeria, Pakistan, and Afghanistan, which operate as command centers for all polio-related decision-making. By bringing together government and international partners, epidemiologists, and surveillance and public health experts under one roof, the EOCs can respond quickly to outbreaks—not only of polio, but also other diseases, as you heard today from the CDC's Dr. Redfield.
Nigeria was the first country to establish an EOC for polio. With its help, Nigeria has gone three years now without a single reported case of wild polio, setting the stage for the entire African region to be certified wild polio-free in 2020.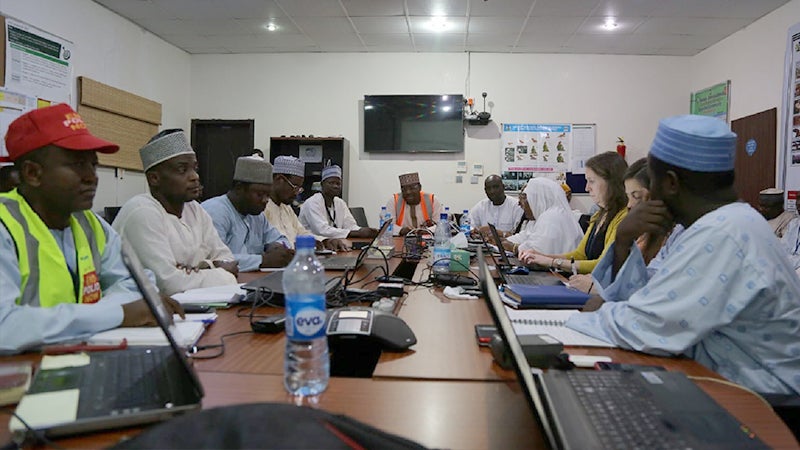 The EOCs also function as a central hub for other critical functions of the polio program. Many of these are things the GPEI has pioneered to get the polio vaccine to children everywhere, while also hunting down remaining vestiges of the virus.
For example, the GPEI created the largest disease surveillance system in the world, including thousands of health workers and volunteers on the lookout for kids with the symptoms of polio, as well as sewage sampling sites in high-risk areas to look for signs of the virus before it can paralyze even a single child.
Hundreds of vaccinators have been stationed at border crossings between Pakistan and Afghanistan, and at other transit points like bus stops and railways stations, to reach children who may not have been immunized at home.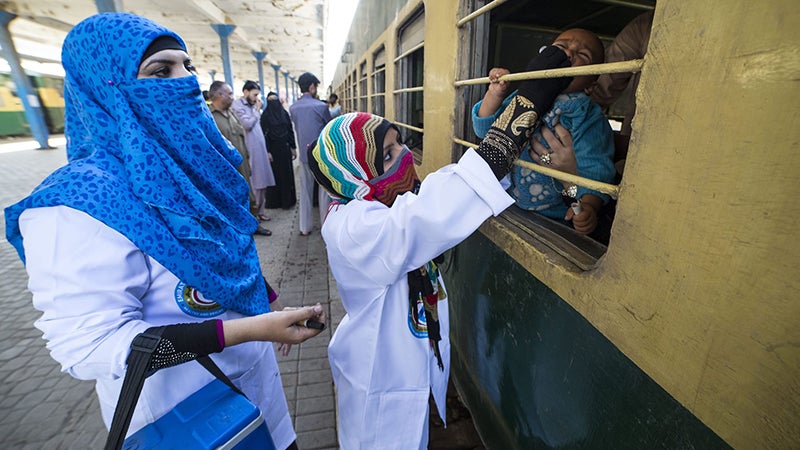 Some of the GPEI's most impressive innovations reflect a deepened understanding of the cultural context in these two countries.
For instance, the GPEI engages female vaccinators in many communities because only women health workers can speak with mothers in their homes, which is essential to building trust and explaining the benefit of the polio vaccine.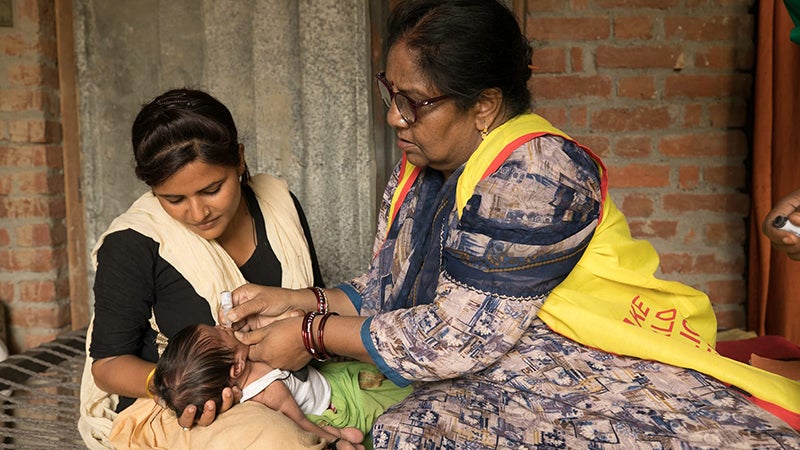 As in Nigeria, the GPEI and its partners also work with religious clerics and traditional leaders in Afghanistan and Pakistan who have the credibility to help dispel misinformation and increase community acceptance of the vaccine.
Some parents, particularly in impoverished communities, do not see polio vaccination as an urgent priority because they no longer see many cases of paralysis. To increase receptiveness, the GPEI has integrated basic health services that people value—like bed nets, Vitamin A supplements, and referrals to local health clinics for those who need treatment—with polio vaccination campaigns.
In the face of outbreaks of a form of polio that can pop up in populations with very low immunity, the GPEI is working with Gavi to strengthen routine immunization and ensure access to the inactivated polio vaccine in all Gavi-supported countries, paving the way for a sustainable polio-free future.
In addition, a promising new oral polio vaccine is currently in clinical trials that, if proven safe and effective, will be an additional tool to protect children from all forms of polio.
Recognition of Donors
While the last steps to eradication are undoubtedly the toughest, I'm optimistic that with the GPEI's persistence and creativity—and the continued support of partners, donors, and endemic country leaders—we will eradicate polio.
We know it can't happen without a strong commitment at all levels of government. Prime Minister Imran Khan has given me his personal assurance that he will tackle the obstacles to eradication in Pakistan head-on. And the governments of Pakistan and Nigeria have put new money into the polio program alongside other donor resources.
The renewed financial support today from donors, including the large increase by Sheikh Mohamed, underscores the confidence that the world continues to have in the GPEI. As a sign of my confidence, our foundation is pledging an additional $1.08 billion, including a match of Sheikh Mohamed's contribution to the UAE-Pakistan Assistance Program and a continuation of our 2:1 match with Rotary International.
The GPEI's Legacy
Eradicating polio will be an historic moment. But it won't be the only thing people remember. The GPEI has demonstrated how to mobilize support for health initiatives at all levels of society. It has proven that it's possible to overcome enormous geographic, cultural and gender barriers to reach vulnerable children in some of the most inaccessible places on earth.
It has pioneered the use of disease detection and rapid outbreak response. And it has shown how to innovate and tailor public health strategies to adapt to changing circumstances.
These are just a few of the insights and lessons learned that will shape and guide other health initiatives for decades to come. Thank you.