Remarks as delivered
National Academy of Sciences Annual Meeting
April 28, 2013
BILL GATES:
Thank you. Melinda and I strongly believe that the advance of human welfare is tied to the progress of science. We have built our foundation on this belief. That's why it is so gratifying for us to be invited to the 150th Annual Meeting of the National Academy of Sciences to receive the Public Welfare Medal.
This award is especially humbling for us in light of the past winners who have shaped and inspired our work: J.D. Rockefeller, Norman Borlaug, D.A. Henderson, and Bill Foege, who along with D.A. Henderson is one of the scientists who helped eradicate smallpox. Bill Foege has been an inspiring advisor to us from the beginning. I still read his speeches to remind myself who public health is for.
So with deep gratitude to those who have guided us, we accept this award on behalf of everyone who is using the power of science to save and improve human lives.
In the early 1990s, Melinda and I traveled to Africa. We met energetic young students and enterprising business people. We saw key elements of a prosperous society. But we also saw appalling poverty and disease. Farmers were working hard, but could not get a good harvest. Children were dying from diseases we had long ago cured in this country.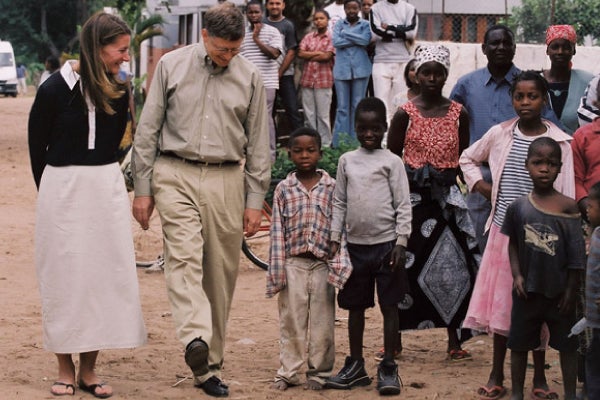 That trip was a moment of insight for us. We saw that many life-saving, life-enhancing discoveries were not shared very widely in the world, and that was deeply upsetting to us. It didn't fit our belief that science is for everyone – that the whole world should benefit from innovation.
It was there that the outlines of our philanthropy began to take shape. We had long believed that every life has equal value. We both believed that every person deserves the chance to live a healthy and productive life. In Africa we began to see, in a concrete way, how the power of science could help make this happen – so long as science is directed to solving the problems of the poor.
Poverty has been with us forever, but the advances of science have not been with us forever – and that is why the future can be different from the past.
In the year I was born, more than 20 million children under the age of 5 died. Lastyear, that number was 6.9 million. Over the past 13 years, driven in part by the Millennium Development Goals, the world has cut extreme poverty in half, cut in half the people who don't have safe drinking water, cut nearly in half the number of mothers who die during childbirth.
This has been done partly with the tools of science – and partly by applying a scientific mindset that sets a goal, measures progress, studies the data, sees what's working, adjusts the plan, and keeps on trying.
Vaccines are a central component in the global drop of childhood deaths. And the truly exciting thing is that today vaccines that are developed in the rich world are making their way much more quickly to the poor world. In the case of the Meningitis A vaccine, this was developed uniquely for countries in the meningitis belt in Africa. The new vaccine was given to 12 million people in Burkina Faso beginning in 2010. Since then, there have been no meningitis cases reported among vaccinated populations.
The poor should be among the first, and not always among the last, to benefit from scientific progress.
This conviction inspired us to establish the Grand Challenges in Global Health. We offered scientists grants to work on breakthrough advances for the world's poorest people. One challenge is to discover a way to make vaccines that require no refrigeration, which would make vaccines easier to deliver in remote areas. Another challenge is to find a biological or chemical approach that makes mosquitos incapable of transmitting malaria. Another challenge is to uncover the root causes of newborn and infant health problems – the least understood area of child mortality. The passion and genius of the scientists pursuing the Grand Challenges makes me optimistic about the future.
Seeking scientific breakthroughs is very exciting work. It means you get to look into electron microscopes… and into latrines. Two years ago, Melinda and I announced the Reinvent the Toilet Challenge. Some have called this the quest for Toilet 2.0.
The need isn't obvious to everyone in the West. But in the developing world, 2.6 billion people have no access to toilets. Open defecation creates rivers of disease. One and a half million children die every year from contaminated food and water. Yet the toilet we all use today is no solution. It requires sewage networks, water treatment plants, huge volumes of water, and energy that's unaffordable for much of the world.
So we issued a call for a toilet design that destroys human waste; converts it to resources like clean water or electricity; requires no connection to water, sewer or electrical lines; costs less than a nickel a day per person; and is something people would use.
The top prize went to a team from the California Institute of Technology. Their prototype uses solar energy to trigger an electro-chemical process that activates the chlorine in the urine. The chlorine then breaks down the other compounds and generates hydrogen and electricity.
I think this is the most vivid example I have of science with a practical purpose.
It's amazing how many fields of science can help the poor. Materials science can help solve the toilet challenge; genetics can generate high-yield crops; energy research can provide the poor with cheap energy that can also help mitigate climate change – which, by the way, will have the biggest effect on the people who've done the least to cause it.
Melinda and I have called ourselves impatient optimists. Our impatience comes from seeing so much unnecessary suffering. Our optimism comes from science. We're on the eve of a new age in scientific opportunity, driven by new ways of collaboration, ubiquitous computing, big data and genomics. The prospects for solving the oldest human problems have never been greater. Yet, science, which is the source of our solutions, is still underfunded. And science for the poor is especially underfunded.
No matter what fiscal challenges we face, we can't afford to scale back our funding of scientific research. We should increase it. Science is central to achieving every ambition we all share for ourselves and for our world.
MELINDA GATES:
Thank you very much for this welcome – and for using this award to highlight the power of science to improve the lives of the poor.
For more than 15 years now, I've been traveling to the developing world on behalf of the Foundation, and there is one scene that moves me deeply every time I see it. Whenever I visit a clinic, I see women lined up to get vaccines for their children. And when I talk to the women who stand in those lines, in the heat, for hours, they tell me about how far they've traveled to get there.  They've often walked 10 kilometers, 15 kilometers. They've brought their food for the day. They've come with the child who's getting vaccinated, but they've also had to bring their other children as well. It is a hard day for women whose whole lives are hard. But those women all walk and stand and wait, because they understand the power of science to open a path to a better life.
If love were enough to save a life, mothers wouldn't bury their babies.
They need science as well.
Whether in form of vaccines for children, or better seeds for farmers, or effective contraception for mothers – science gives us the power we need to make our caring matter.
Our challenge is to get more science done with the poor world in mind.
There are tremendous advances underway today, and that's a cause for celebration. But there are still far too many tragic barriers to applying science to lift the lives of the poor.
We often take too long to deliver the life-saving insights of science. We often take innovations designed for the rich world and ship them to the developing world without taking into account the differing needs. And we often are stalled by behaviors and beliefs that elevate old practices over the urgency of saving lives.
I am spending a great deal of my time right now advocating for family planning. One of the longest-running pieces of health research dates from the 1960s, when half of the families in a village in Bangladesh were given contraceptives, and the other half were not. Twenty years later, the families with contraception were healthier. The children were better nourished. The families had more wealth. The women had higher wages. The sons and daughters had more schooling.
Contraception is one of the greatest anti-poverty tools we have today. But the appalling paradox is that the poorer you are, the harder it is to get this tool – or to take full advantage of it – especially for women.
The barriers are enormous. Many women cannot negotiate condom use with their husbands. Many cannot openly use female contraception because the husband may want a lot of children. In Niger, I met a woman named Sadi who four times a year has to walk 15 kilometers to a clinic to get an injection, and there is no guarantee that the clinic will have the injection when she gets there.
To gain the full benefits of the science of contraception, we need researchers to travel out in the field, understand the needs, and design new tools with women in mind. We need contraceptives that can be used without the husband's consent, that have fewer side effects, last longer, are cheaper, and can be delivered to a woman in her village or self-administered in her home.
Providing access to contraception should be a global priority for government leaders, business leaders, community leaders, even religious leaders. Contraception reduces poverty. It allows parents to choose the size of their families. It allows them to space the births of their children, and that makes it easier to give each child the food and clothing and schooling and health care and maternal care they need to thrive. The science is clear: Contraception dramatically improves the lives and well-being of mothers and children.
Another crucial way that science fights poverty is in agriculture. Bill and I believe that using science to help the poorest farmers grow more crops is the world's single most powerful lever for reducing hunger and poverty.
The Alliance for a Green Revolution in Africa is working to develop and distribute seeds that can get higher yields on the same land in harsher weather. I recently visited Tanzania and met a farmer named Joyce. She and her husband, Raymond, feed their four children with the vegetables and maize they plant on less than a hectare of land.
Joyce is now planting a new maize seed that was bred to tolerate pests and drought. The prior year's weather had devastated her vegetable crop, but the maize did very well – a bumper crop, which gave her enough to feed her family and still have a surplus to sell. With the extra money, Joyce said she is going to send her children to high school.
This is what the harvest can look like when poor farmers plant better seeds.
We want to boost that harvest. That's why we are supporting – along with USAID – a group called AWARD: African Women in Agricultural Research and Development, which sends African women scientists to school to do research on improving the tools that can make a more abundant harvest for Africa's farmers.
Climate change will intensify the need for science in farming. Either farmers will get the benefit of new seeds that can increase yields in harsher conditions -- or poor countries will face declining yields amid growing populations.
Farmers should have the right to choose the best seeds that science can offer. Whether they want seeds bred with a traditional approach, or seeds bred through biotechnology – it should be their choice. There will be spirited debate over what is best for farmers and the environment. That's good – but the debate needs to be guided by science. The stakes are too high to allow anything less. This is not only a matter of sustaining the environment. It is a matter of sustaining human beings.
The future can be fantastic – if we use the full power of science to improve the lives of the poor. Making the case for science – for vaccines, or new seeds, or contraception – can lead us into intimate places in people's lives. It can lead us into political storms, and can take us outside our comfort zone. But we have a duty to people who have no comfort zone. We have an obligation to them and their families to expand the reach of life-saving science.
Thank you for dedicating your lives to scientific research. Bill and I are lucky enough to see the faces of people whose lives are touched by your work. On behalf of all of them, and for your 150 years of service to the country and to the world, we thank you.