Officially, Uganda's maternal mortality rate is double the global average. But because that number doesn't count those who give birth at home—in a country where poverty, distance, stigma, and distrust are all barriers to medical care—Eva Nangalo believes the real one may be much higher.
That's why, as a midwife determined to eliminate these deaths altogether, she's spent the past 23 years working to make hospital deliveries both more safe and more common.
For Nangalo, this is more than a job. It's her life's work, and something she's felt called to do for as long as she can remember. "I was created to be a midwife, born to be a midwife, trained to be a midwife," she said. "It's what is in my DNA. That's what I am."
Working the night shift at Nakaseke General Hospital in rural central Uganda and tending to her family's farm while off the clock, Nangalo is known for sleeping maybe one or two hours, if that, a day. When the power goes out in the middle of a delivery—which happens often—she uses the flashlight on her cellphone to get the job done. She even keeps her hair short rather than style it the way she'd prefer.
In her own words: "I've wanted my hair to be like other women. But then I think of the one dollar saving a mother's life."
That isn't theoretical. Nangalo regularly reaches into her own pockets to ensure that expecting mothers have the transportation they need to get to the hospital in the first place—and the food, milk, and medicine they and their babies need to survive not only childbirth but also what comes next. She once tore a piece of her own bedsheet to give to a mother who didn't have one at home.
It's no wonder she's made a name for herself—literally—among the women she's served, with many choosing to name their daughters after her.
Her advocacy efforts—and their effects—are broad and far-reaching. Understanding the fears and misconceptions that exist in Uganda around healthcare facilities, she uses the radio to reach skeptics and explain the merits of hospital deliveries and the higher risks of fatal infection and bleeding inherent to home births. She helped establish a newborn clinic in Nakaseke, improving the safety of childbirth at the hospital and increasing the number of families served. She even pushed the government to make good on its own policies and open a health facility in every sub-county.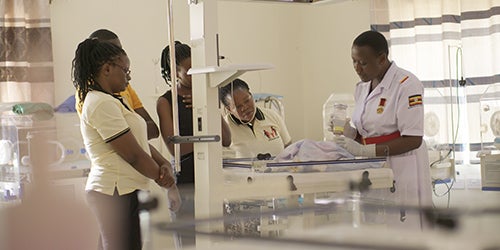 Eva mentors midwives in the newborn clinic she helped establish at Nakaseke Hospital.
But perhaps nothing Nangalo has done as a midwife has been as transformative as what she's done for midwives. Thanks in part to her tireless advocacy, their workload, working conditions, and salaries have improved.
Every other week, when she's off from the hospital, Nangalo travels up to seven hours on her own dime to mentor other midwives across the country. In lectures, tutorials, and other trainings, she teaches them lifesaving techniques, like how to protect babies against perinatal HIV transmission—expertise she's acquired while heading up her own hospital's Department of Prevention of Mother-Child HIV Transmission. She also passes on what she's learned about resuscitating newborns who appear to be stillborn to reduce neonatal mortality rates.
Midwives attend a lecture given by Eva.
Eva demonstrates a lifesaving resuscitation technique.
Midwives attend a lecture given by Eva.
Eva demonstrates a lifesaving resuscitation technique.
Today, Nangalo is renowned across Uganda, the African continent, and the world for her dedication to midwifery—and mothers, children, and midwives themselves. Turning her calling into a career, though, was anything but easy.
Back in primary school, when children were asked to sing about what they wanted to be in the future, Nangalo sang the same note, over and over again. But her parents—farmers themselves in the Kitayunja village, three hours from where Nangalo lives today—often couldn't afford tuition fees for her and her nine siblings. As a result, she spent stretches of her childhood out of school, working to support the family instead. But Nangalo remained committed.
When she entered the Jinja School of Nursing and Midwifery, she was the only one in her 103-person class without an advanced level of secondary education. By the time she left two and a half years later—second in her class, and one of only 26 to graduate—she'd defied the odds, economic obstacles, and opposition of her father, who wanted her to become a teacher.
"I used to pray to God," she said, "telling him that if you help me go through this training, I'll help many." She kept her word.
Patients, colleagues, and supervisors call Nangalo a voice for the voiceless: for mothers who hadn't felt seen or heard by the country's healthcare system, babies whose deaths were preventable, and healthcare workers without the resources or know-how to advocate for themselves. Her work as a midwife is lifesaving—and her work as a mentor to other midwives is responsible for saving many thousands more.
A mother and child outside of Nakaseke Hospital.
Eva has delivered many of her loved ones' children, including her friend's son and daughter seen here.
A mother and child outside of Nakaseke Hospital.
Eva has delivered many of her loved ones' children, including her friend's son and daughter seen here.
It's no exaggeration to say that Eva Nangalo is making childbirth in Uganda safer for everyone involved.
"The future looks bright," one colleague said, "if we have more and more people like Eva." Fortunately, she's working to ensure that's exactly what happens.