Warren Buffett turns 90 years old today. It's hard to believe that my close friend is entering his tenth decade. Warren has the mental sharpness of a 30-year-old, the mischievous laugh of a 10-year-old, and the diet of a 6-year-old. He once told me that he looked at the data and discovered that first-graders have the best actuarial odds, so he decided to eat like one. He was only half-joking.
Here's a short birthday video in honor of his dietary preferences:
Warren is still so youthful that it's easy to forget he was once an actual young man, just starting out in his career. Here he is with his first wife, Susan, and their first two children, Susie and Howard. (Peter hadn't been born yet.) This photo was taken in 1956, around the time Warren started the Buffett Partnership, the investment firm that eventually morphed into Berkshire Hathaway.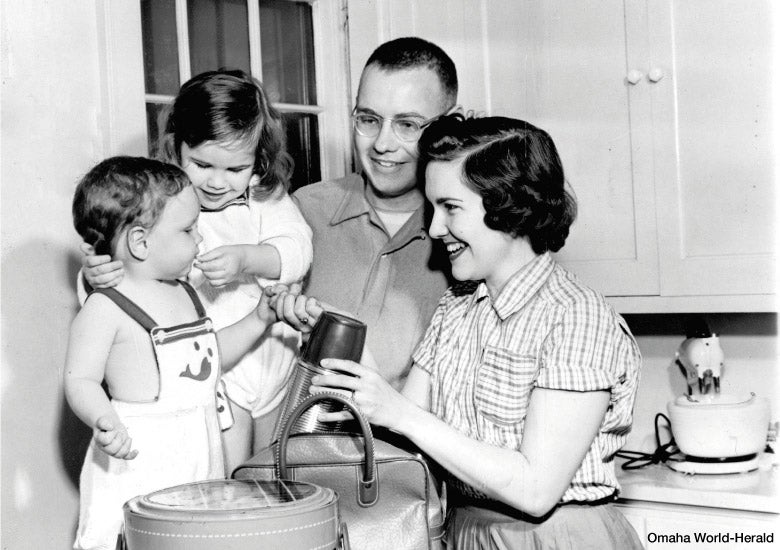 I couldn't possibly list all the interests Warren and I share. But one thing we discovered the first time we met is that we both love math and numbers. So in honor of Warren's birthday, I thought I would share a few numbers related to turning 90—and to our friendship.
30: Number of years Warren has spent sleeping in his lifetime
10,649: Days since we met for the first time, on July 5, 1991
2: Phone numbers I have on speed dial at my office—Melinda's and Warren's
Incalculable: The impact Warren has had on the world by committing to give virtually all of his wealth back to society
One of Warren's most admirable qualities is his unshakable sense of right and wrong. It's a trait he may have gotten from his dad, Howard, a stockbroker and three-term U.S. Representative from Omaha. During Howard's first term, Congress got a pay increase. Howard refused to take the extra money: After all, he had been elected at the lower salary. Warren has that same high ethical bar.
Warren has a phenomenal eye for talent. He buys great businesses run by brilliant people, and then gives them the autonomy to make their own decisions. Most of the managers at Berkshire businesses stay for decades, often past the retirement age. Even if they make a few mistakes, they know Warren will stick with them.
For years, he admired the business acumen of Rose Blumkin, who had opened Nebraska Furniture Mart in 1937 and built it into the biggest furniture retailer in the country. In 1983, he bought the company from "Mrs. B.," as she was known. She soon opened a rival across the street—and eventually sold that one to Warren too.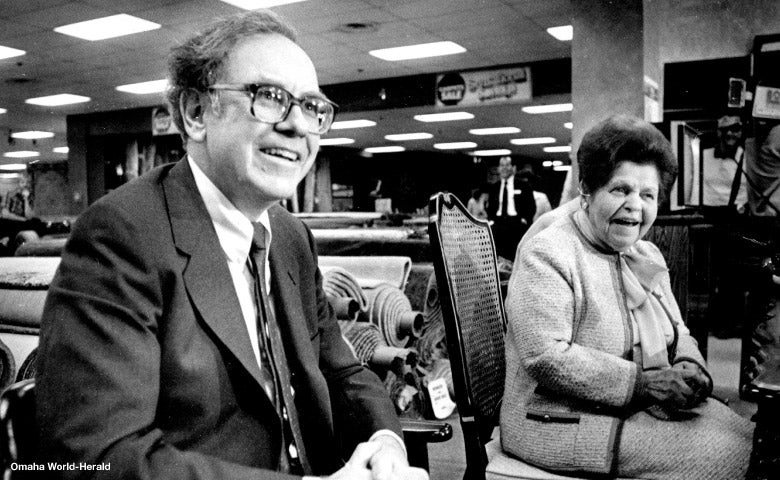 For as long as I've known Warren, his approach to life and work has stayed constant. It's amazing, in fact, how little he has changed even as Berkshire Hathaway has become wildly successful. He has been taking questions at shareholder meetings for decades and still does today—even though the venues have had to expand a little bit. On the left is a shareholder meeting from 1989 (with his business partner, Charlie Munger), and on the right is the meeting in 2010.
Although Warren works incredibly hard, he always leaves time for extracurricular activities. Here he is throwing out the first pitch at an Omaha Royals minor-league baseball game, and guest-starring on an episode of All My Children opposite Susan Lucci and Jill Larson.
Of all the things I've learned from Warren, the most important thing might be what friendship is all about. As Warren himself put it a few years ago when we spoke with some college students, "You will move in the direction of the people that you associate with. So it's important to associate with people that are better than yourself. The friends you have will form you as you go through life. Make some good friends, keep them for the rest of your life, but have them be people that you admire as well as like."
A person that I admire as well as like—that's the perfect description of how I feel about Warren. Happy birthday, my friend.