I recently visited a remarkable farm in Carnation, Washington, just 25 miles from downtown Seattle.
At first glance, Dancing Crow Farm looks like any other farm. There are rows of crops and, at least when I was there, the field was dusty. There were farm implements and freshly picked peppers piled up under a lean-to. But if you talk to Sean Stratman—the man responsible for this plot—it quickly becomes clear what makes his farm so special: Sean knows more about his land than almost any other farmer on earth.
Dancing Crow Farm is the pilot site for FarmBeats, an amazing new project that hopes to make farmers more productive by arming them with data. When most people think of groundbreaking digital technology, they don't picture soil sensors. But a farmer who knows the temperature, pH, and moisture level of his soil can make all sorts of informed decisions that save money and boost yield.
For example, fertilizer works better when it's applied to moist soil. But how do you know when to fertilize? Soil that feels dry is often still damp below the surface. You'll end up fertilizing more often than necessary if you go by touch alone. But if you know exactly how much moisture is in your soil at any given moment, you can fertilize only when you need to. You use less and save money.
The problem is that most existing digital platforms that provide this kind of information are expensive. Sensors can cost hundreds of dollars each, and each one only covers 10 meters. The cost is so prohibitive that only the very richest farmers can afford them.
A team of researchers at Microsoft—led by researcher Ranveer Chandra, who I talk to in the video above—wants to change that. In FarmBeats, they've developed a series of innovations that might one day put data in the hands of even the poorest farmers.
The main innovation is in how FarmBeats sensors transmit data. Most farms have poor or no access to the Internet. In the United States, 20 percent of people living in rural areas don't have access to even the slowest broadband speeds. Most farm data systems require expensive transmitters to connect, but FarmBeats relies on a clever workaround: it uses TV white space.
White spaces are unused TV broadcast spectrum. If you've ever watched an old TV, you've seen white spaces before. They're the "snow" you'll sometimes see while flipping through channels. These gaps in spectrum are plentiful in the remote areas where most farms are located, so data can be sent over them the same way that data gets transmitted via broadband.
Here's how FarmBeats works: The whole system is powered by solar panels. You place a small number of sensors—one every couple hundred meters, instead of 10 meters—in the ground. You then attach your smart phone with the camera facing down to either a drone (if you have money to spare) or a helium balloon (if you don't).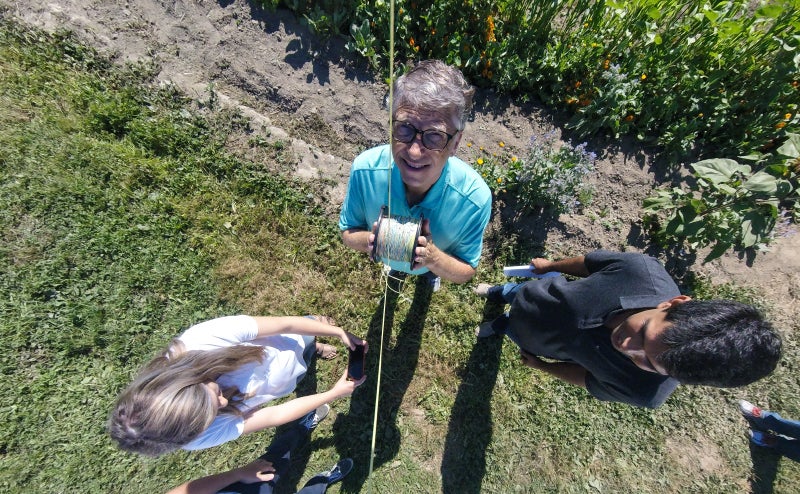 You walk around the fields with the camera, creating an aerial map of the farm. Data from both the sensors and the phone are transmitted via TV white space to your computer, where an edge device stitches everything together into a data map.
The data generated by FarmBeats has been a game changer for Sean and Dancing Crow Farm. He can use up to 30 percent less water for irrigation and 44 percent less lime to control soil pH. Information on soil temperature and moisture levels has helped him better time the planting of seeds, so he gets a more productive harvest. Because Dancing Crow Farm is located next to a river, flooding is a problem. FarmBeats' aerial imaging capabilities precisely document flooding patterns, so he's able to better plan what he plants where. The system even helped Sean identify parts of the farms where inadequate drainage was affecting the quality of beans.
It'll be at least a year before every component of FarmBeats is available to the public—and even longer before the cost comes down enough for broad adoption (the current version is much cheaper than other farm data systems but still too expensive for poor farmers to afford). But I'm hopeful that one day this technology could be available to every farmer everywhere, including the most remote parts of Africa.
Even as they continue working on the current version, the FarmBeats team is already working on the next generation of their technology. They just released a paper demonstrating for the first time that Wi-Fi signals can be used to collect soil data. Using only their smart phones and super cheap RFID tags buried in the ground, any farmer could get important information about their land—no special, high tech equipment required.
The Wi-Fi technology is still theoretical, but I'm glad brilliant minds are thinking about how we can help the poorest farmers gather data and increase yield. Even small gains in productivity could mean the difference between affording to send your kids to school or not. And for farmers who rely on the food they grow to feed their family—where the size of your harvest is a matter of life or death—FarmBeats could be a literal lifesaver.
More than three-quarters of the world's poor rely on agriculture to earn a living. If we're going to win the fight against poverty, we must help farmers—and I believe that FarmBeats could be a powerful tool.