As I have for the last nine years, I traveled to Omaha last weekend to attend the Berkshire Hathaway annual meeting. Forty thousand investors and their families made their way to Nebraska to sit at the feet of the masters, as Warren Buffett and Charlie Munger answered questions on business, the economy and life for more than five hours.
This year, Warren decided to mix it up a bit, by inviting a short-seller analyst, Doug Kass, to join the panel of reporters and analysts who alternated with the crowd in asking questions. Last year was the first year for the panel of industry analysts, but specifically adding a vocal critic like Kass was a bold step, I thought. It is testimony to Warren and Charlie's supreme confidence that they'd give floor time at their company's annual meeting to one of their sharpest critics.
In the video before the meeting began, there was a short segment interviewing people from last year's meeting, and one participant's comment really struck me. He said: "This is a little like going to church. I know what the message is going to be, but I come to be renewed."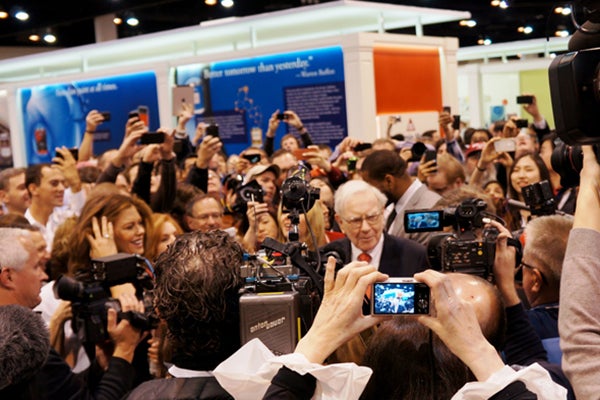 When Warren talks - people listen. Media and attendees crowd Warren just ahead of Saturday's Berkshire annual meeting.
Over five plus hours, Charlie and Warren answered 63 questions on everything from the wisdom of Berkshire's newspaper investments to questions about its corporate culture and succession.
When I think back to my other Berkshire meetings, Warren and Charlie's principles and approach are remarkably consistent. Rooted in their beliefs in value investing, their methodology remains to invest in businesses they believe have an enduring advantage, and to do so in a rational way. As Charlie said at the meeting: "We like to stay sane when others are going crazy."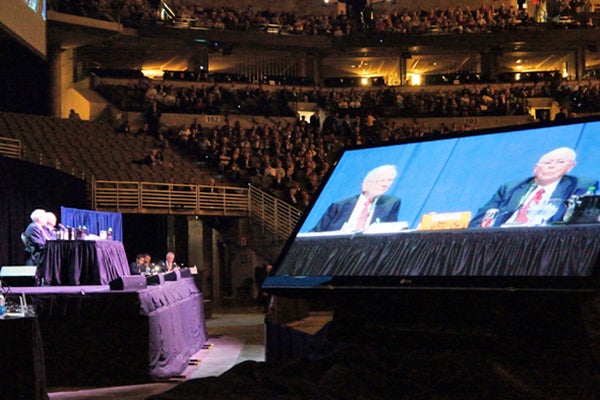 Charlie Munger and Warren Buffett answer five hours of questions from reporters (foreground), industry analysts and the crowd during the Berkshire Hathaway annual meeting
Another strategic difference with Berkshire was highlighted quite clearly in their discussions. They buy great businesses, insure they have great managers, and then basically stay out of the way. There is essentially no corporate 'drag' by being a Berkshire company. While Berkshire manages the allocation of capital (and does so brilliantly), the rest of the company's operations - from Mid-American Energy to the Pampered Chef - remains the responsibility of its management. This may be one of Berkshire's enduring market differentiators.& That, and the fact it has a lot of cash to do deals, means that people bring their businesses to Berkshire where they would not do so most anywhere else.
Warren remains a genius at promoting his companies. For example, I counted at least three references to ketchup during his comments. I got a rematch with Warren and some journalists at the newspaper throwing competition just before the Saturday meeting. Once again, I summoned my old paperboy skills to toss some Omaha Herald newspapers onto the porch of a Clayton modular home (both Berkshire companies) that had been assembled in the exhibition center. I'm getting better at this – but slowly.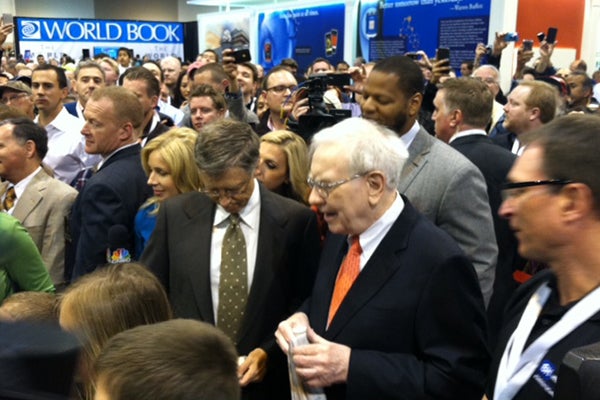 Warren and I get ready for the Omaha Herald newspaper toss. I'm improving – but slowly.
On Sunday I showed up for the annual slaughter in ping pong, as Warren and I played an exhibition Ping-Pong game with Ariel Hsing. I've known Ariel for a number of years, and was in the stands last summer at the London Olympics as she represented the United States. That exhibition is just in front of Borsheims, the Berkshire jewelry store where Warren played salesperson later in the day.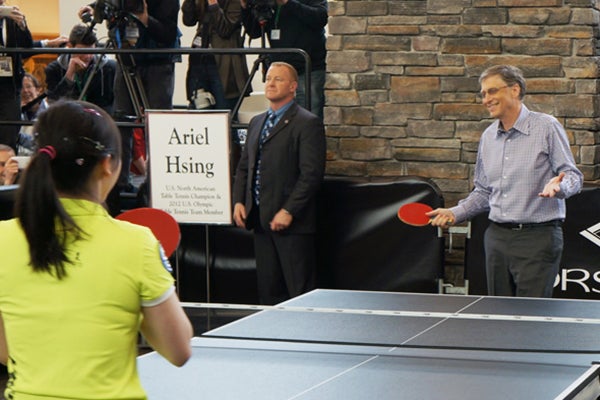 Ariel Hsing being kind to me and giving me at least one point.
I finished the weekend by going on television with Warren and Charlie, talking to Liz Claman from Fox Business News and got up early to join Warren and reporter Becky Quick on CNBC's Squawk Box.
Someone in the crowd asked Warren about how he organized his time. Warren responded that he basically had no system at all, really. He just did what he loved to do. Getting to come to the Berkshire weekend is certainly one of the things I love to do. It's always an amazing and fun opportunity to learn from this extraordinary business leader and my good friend.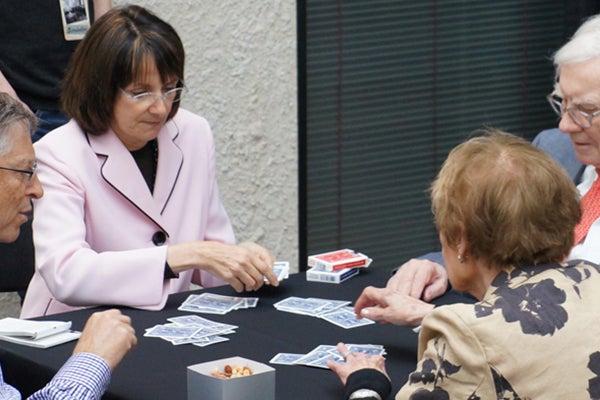 Warren and I team up against our friend and bridge superstar Sharon Osberg and a local Berkshire shareholder for a quick game on Sunday afternoon.