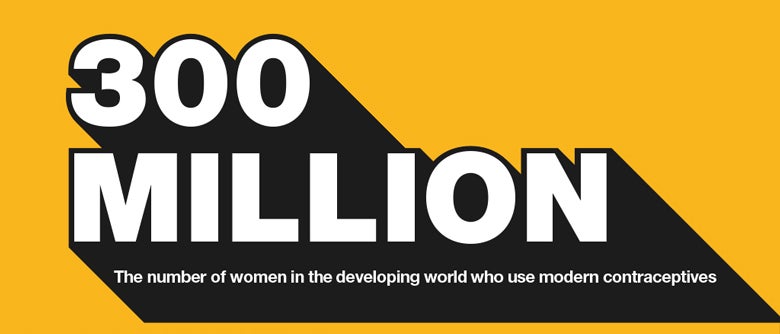 Melinda: This is another number we follow closely. For the first time in history, more than 300 million women in developing countries are using modern methods of contraception. It took decades to reach 200 million women. It has taken only another 13 years to reach 300 million—and the impact in saving lives is fantastic.
Bill: When women in developing countries space their births by at least three years, their babies are almost twice as likely to reach their first birthday. Over time, the ability of women to use contraceptives and space their pregnancies will become one of the largest contributors in cutting childhood deaths.Warren, you've compared your philosophy of investing to Ted Williams's science of hitting. Williams waits for the right pitch, and you wait for the right deal. This is the right deal, Warren. Like vaccines, contraceptives are one of the greatest lifesaving innovations in history.
Melinda: Contraceptives are also one of the greatest antipoverty innovations in history. When women are able to time and space their pregnancies, they are more likely to advance their education and earn an income—and they're more likely to have healthy children.
Bill: They are also more likely to have a number of children they can support. This leads to fewer dependents that need government services, a growing workforce that includes more women, and more resources for sending children to school.
Melinda: When a country sends a generation of healthy, well-educated young people into the workforce, it's on its way out of poverty. But this doesn't happen by accident. No country in the last 50 years has emerged from poverty without expanding access to contraceptives.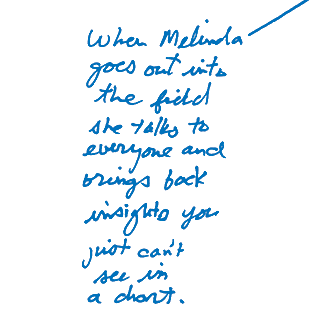 Bill: When we started the foundation, I underestimated the power of contraceptives to lift families out of poverty. I began to see it because Melinda is a great storyteller—and that includes getting the story. When I was still full-time at Microsoft, she'd go out in the field and come back and tell me what she saw. One time when the data said family planning clinics were "stocked," Melinda learned they had only condoms, which most women will not ask their partners to use.
Melinda: Most of the women I talk to in the field bring up contraceptives. I remember visiting the home of a mother in Niger named Sadi, whose six children were competing for her attention as we talked. She told me, "It wouldn't be fair for me to have another child. I can't afford to feed the ones I have." In a Kenyan slum, I met a young mother named Mary who had a business selling backpacks from scraps of blue-jean fabric. She invited me into her home, where she was sewing and watching her two small children. She used contraceptives because, she said, "Life is tough." I asked if her husband supported her decision. She said, "He knows life is tough, too."
Bill: Right now, there are still more than 225 million women in the developing world who don't want to get pregnant but don't have access to contraceptives. A recent youth survey in the Indian state of Uttar Pradesh showed that 64 percent of married teenage girls wanted to postpone their first pregnancy, but only 9 percent practiced a modern method of contraception.
Melinda: Family Planning 2020, a global partnership that we're a part of, has set a goal of providing 120 million more women access to contraceptives by 2020. We're focusing on South Asia, where contraceptives are used by only a third of the women, and on Africa—where they're used by fewer than one in five.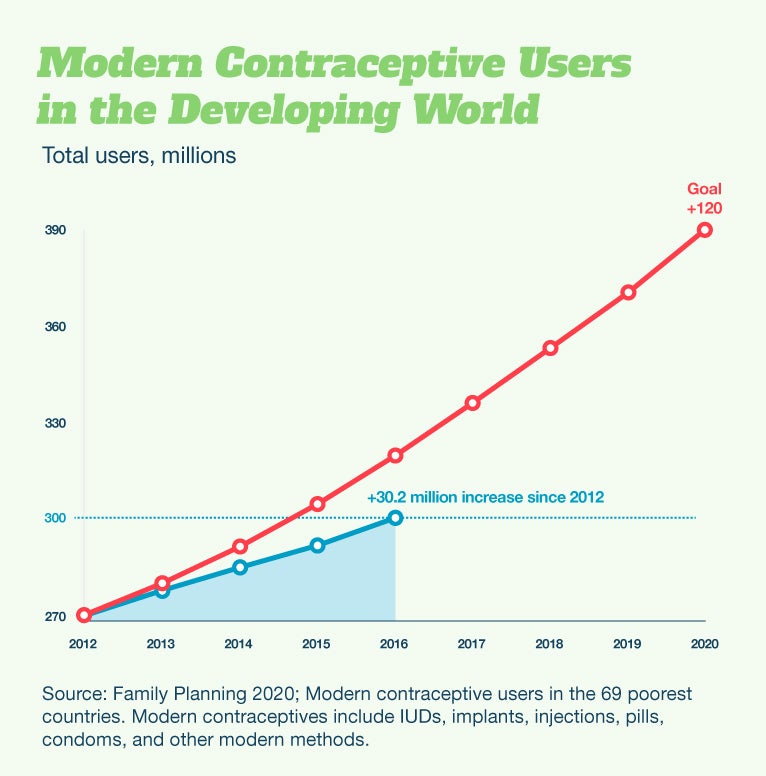 Bill: The past four years have shown the greatest increase in history, but this chart shows we're halfway to the deadline and only a quarter of the way to the goal. We need to speed up.
Melinda: The challenge is to provide women access to the widest range of contraceptives so they can find a method that fits their lives.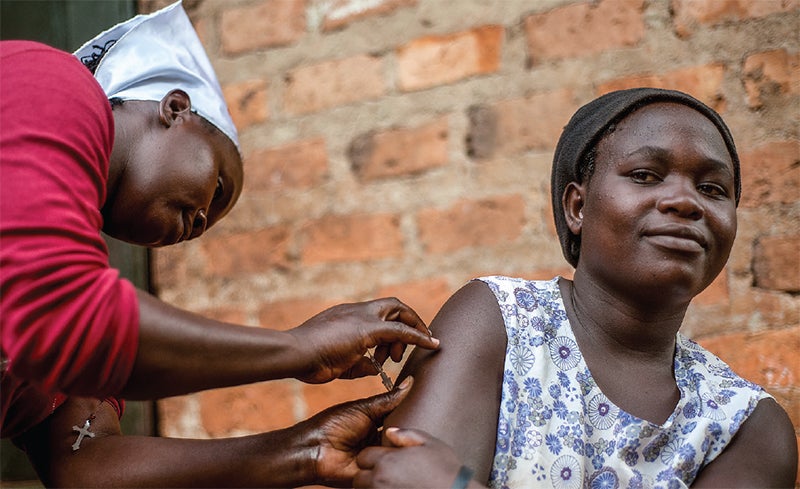 Melinda: The latest is an injectable that lasts for three months and combines the drug and needle in a tiny device you can hold in your palm. It's so easy to use that the design itself expands access to contraceptives. I was talking to a woman about taking her kids in for shots, and she said, "What about my shot? Why do I have to walk 20 kilometers in this heat to get my shot?" Now she doesn't. Instead of getting the shot from a nurse in a distant clinic, she can get it from a health care worker who comes to her village. Eventually, she can give herself the shot at home.
Bill: These changes are rolling out now, and that's encouraging. But we still face one of the biggest and oldest challenges: making sure people understand the lifesaving, poverty-ending power of contraceptives.
Melinda: Public advocates are important, which is why I've taken on that role. But nothing can take the place of a trusted voice in the community. In Senegal a few years ago, I was visiting with a number of imams who were talking about how contraceptives are consistent with Islam. One young imam, whose babies had been very tightly spaced, told us, "My wife died in childbirth because I didn't let her use contraceptives, and now I'm raising our children alone." Then he began to weep. Today he's saving lives by telling his story.
Bill: The support of men is crucial, especially the support of the husband. But there is another thing that's crucial—and that's the support of other women.